| | |
| --- | --- |
| Posted by aimedemoor on August 6, 2013 at 3:25 PM | |
Het mag bekend zijn dat de etiketteer machines van Great Engineering (BenchMATE, BenchMARK en BenchMAX) erg geschikt zijn voor het bestickeren van wijnflessen. Maar u hoeft ons niet op ons woord te geloven: lees het artikel van de Amerikaanse wijnkenner en auteur Elliot Essman er maar op na:
My seventh trip to Australia brought me face to face with real innovation:

Peter O'Brien's labeling systems are appropriate for any bottle that is round. Despite this, the wine labels are the ones that really get my attention. Olive oil bottles come a close second.


I met Peter at his factory during my recent trip to Melbourne, Australia. He calls his company Great Engineering. This is not an idle boast. Great Engineering offers a hand-operated machine, a semi-automatic device, and a fully automatic apparatus. They are all 100% made in Australia and are finding increasing presence in the United States and other countries for wine and more.

We do a demo, of course. Peter runs a bottle through the system, label affixed properly...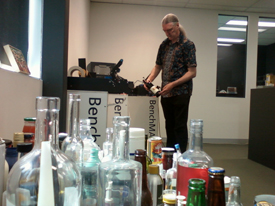 klik deze link voor het volledige artikel van Elliot Essman: